What is a Quickstrike (QS)?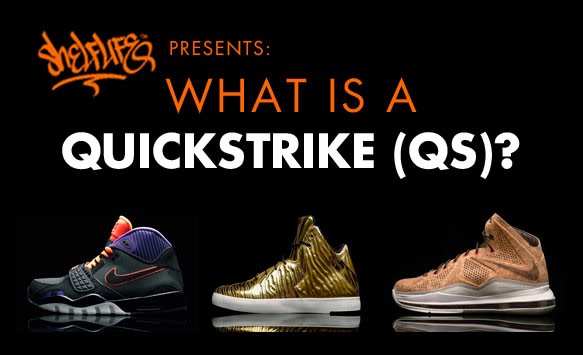 The terms General Release, Limited General Release, Quickstrike and Hyperstrike refer to the degrees of rarity of sneaker model releases, further offering an indication of the quantities available.

Quickstrike releases, labeled with QS, are sold only at stores with specific "Quickstrike" Nike accounts. These stores have been chosen by Nike under strict guidelines including; store location, quality of store (including fittings, layouts and product placement), marketing and promotion campaigns behind the product through the store, the quality of brands that the store carries, and other footwear brands that the store stocks. Approved stores are typically very connected with sneaker culture and sneaker communities alike.

Quickstrike releases have a short lead-time and do not have a pre-announced date. Models arrive unannounced; in limited quantities and ready for sale; making them more valuable and generally a lot harder to get a hold of. To get an idea of this, only around 12-100 pairs of Quickstrike come into the whole of South Africa.



After Nike introduced the term Quickstrike, more and more colourways and retro models released, seeing Nike employ an additional designation for rarity and exclusivity. The Nike Tier system refers to the types of Nike and Jordan Brand accounts held by retailers, with Tier Zero and Tier One account holders receiving the latest and best sneaker releases in extremely limited quantities.



Shelflife is one of the only sneaker boutiques in Africa with certified Nike and Jordan Brand Tier One and Quickstrike accounts, sometimes receiving, on a very rare occasion, models of Tier 0 stock.


Below are a few examples of Quickstrike models that are currently available from Shelflife.


Below are a few examples of previously released Quickstrike models.
Please note that these models are sold out.