Henry Hamilton's 'Hide and Seek' Exhibition (Interview)
Opening last week in Cape Town, Henry Hamiltons 'Hide and Seek' exhibition is the place to be for the finest hand-tufted rug art.
Henry is a close friend of Shelflife and we've collaborated with him many times in past - whether it was digital work or more recently, tufting rugs. We got the chance to sit down with Hamilton to ask him a bit about his latest exhibition and the ins and outs of the rug tufting world.
Give it a read below!



Can you tell us a little bit about your latest exhibition in Cape Town?
Remove
Hide and Seek is an exhibition at Brutal Curation which is in Side Street Studios, Woodstock, Cape Town. The show features tufted wall hangings by myself and two light artworks by @mr.bzar. I have slowly but surely been translating my illustrations and paintings into tufted rugs. The subject matter for the exhibition is inspired by pop culture and my love for paranormal stories.


Rug tufting has really taken off globally in the last few months, how did you get into making rugs at home?

Remove
I first got into using yarn with a punch needle (see below). It's a great way to get into using yarn and is way cheaper than a tufting gun. During the pandemic, lockdown tufting exploded in the United States. I first saw tufting being done on Instagram and I knew I had to get myself a gun. My gun arrived in early 2021 and ever since then I haven't looked back.


Are there any common mistakes new tufters should try to avoid?

Remove
Yes definitely - like everything it takes a lot of practice. Here are some things I make sure to do:
Make sure that your fabric is pulled as tight as possible on the frame.
Make sure when you trace your design onto the fabric that your design is flipped.
Stick to vertical and horizontal lines when starting.
Use firm forward pressure.
Don't overwork an area.
Clean up your work afterwards.

Your style is extremely unique and instantly recognisable. How do you ensure your work stands out against the rest?

Remove
I try to bring my own style to every rug I do whether it's commissions or personal work. After years of drawing and painting, I finally feel that I have developed my own style.
I try not to be influenced by other people's work too. 

Before yarn Henry Hamilton was known more for painting. Do you think there are any similarities between murals and tufting? Are there any skills that carry over?
Remove
I think my style of illustration translates well as tufted pieces. It feels like it's just painting with yarn. The skills that I have carried over are knowing what colours work with each other and how to work out the composition of my pieces.

One of the things I love about yarn is all the colours it comes in. I love using bright exciting colours in my paintings and tufted pieces. When the rugs are complete they can either be placed on the floor or hung on the wall.

We've obviously worked with you a few times before, most notably for the adidas x The Simpsons launch. Which other projects are close to your heart?

Remove
I was commissioned by Huston Wilson, who is a lettering designer from Johannesburg.

He gave me a super cool type-based design to tuft. It was a bit of a challenge to get the thin lines to line up, but I was really happy with the outcome and the rug received great feedback.

Are there any tufting accounts you follow to stay inspired in your craft?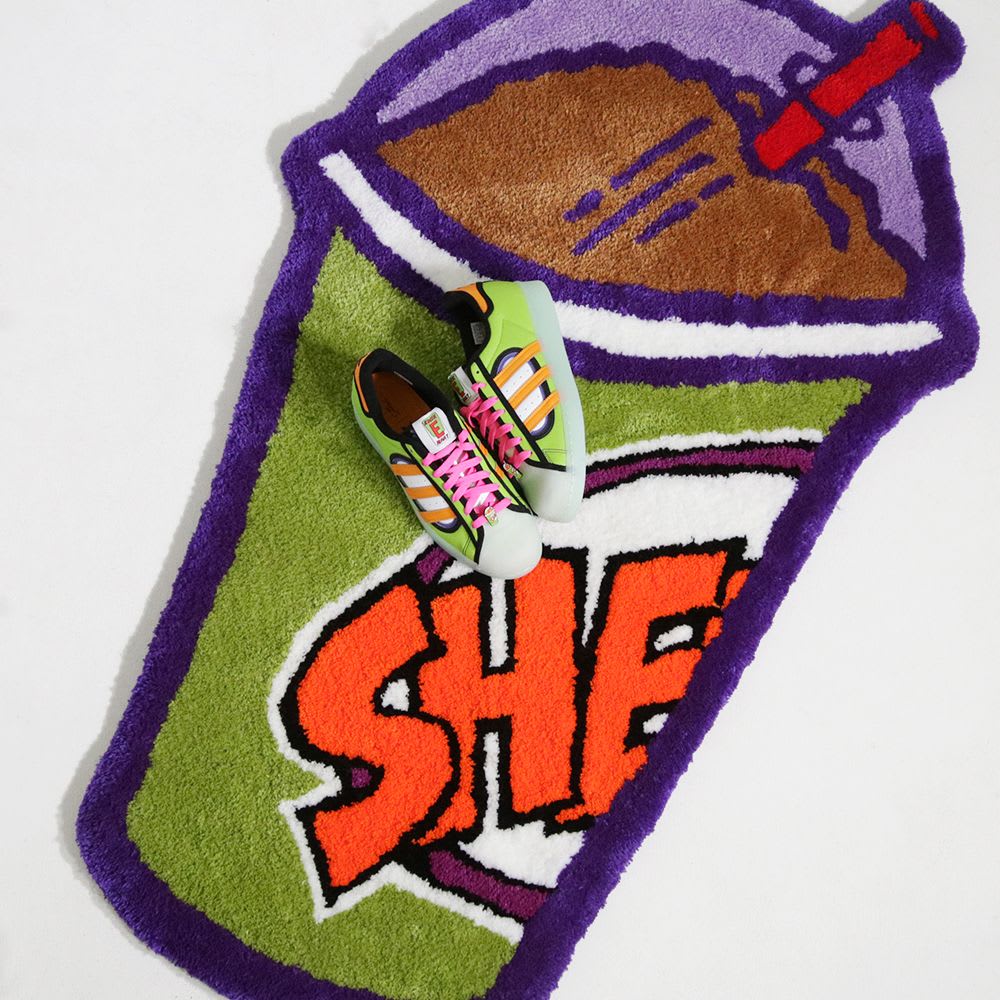 The 'Hide and Seek' Exhibition by Henry Hamilton and Mr Bzar is open until 21 March at Side Street Studios in Woodstock, Cape Town. Don't miss out on this one!